Hatchery Incubator Launches to Support Student Ventures
---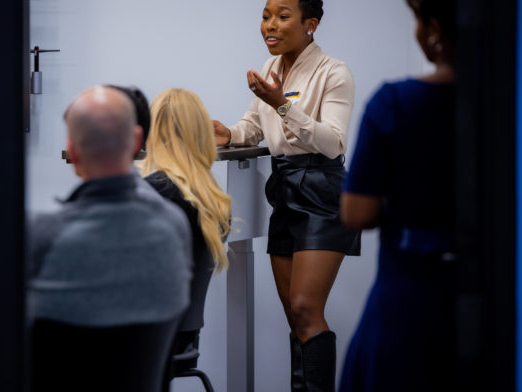 The Hatchery, Emory Center for Innovation, launched a brand-new program in response to growing requests for support for student ventures. This hands-on program is offered to both undergraduate and graduate student founders, regardless of academic concentration, of nonprofit or for-profit ventures from ideation through launch stage.
The Incubator includes courses taught by industry experts, one-on-one coaching and mentorship, connections to the Atlanta innovation ecosystem, and monthly award money for prototype development to help student founders advance their ventures.
Benedict Owanga, an Emory Law student and founder of Quick Light, shared his experience with The Incubator so far. "It has given me the opportunity to meet other founders and bounce ideas off them. Without the Hatchery, my startup would not have made as much progress as it has."
The cohort started in September with nine ventures and has already grown to full capacity at fifteen. Learn more about these student-founded ventures below.
Will Dinneen, 23C, Weathertop: Weathertop is a Policy Management Platform powered by Natural Language Processing. (Team: Kelly Dinneen)
Adway Gopakumar, 23C, Liberation Through Education: LTE is providing aid for the education and development of youth in under-privileged communities across the globe. (Team: Benjamin Ambrose; Connor Parrish, 23C; Rahil Mahmood, 23C)
Barbara Biney, 25M and Sydni Williams, 24M, Besties Box: Besties Box is a premium monthly subscription box service where customers receive samples of textured hair products.
Kayla Jones, 22T, 22B, Frotextion: Frotextion is creating helmets with a built-in lining that protects both the wearer's hair and head, so a person can exercise without comprising the integrity of their hair or its health.
Morgan Villar, 25T, Dignity Homes: Dignity Homes develops affordable housing communities that stabilize and nurture working-class families.
Nejere' Onomakpome, 23Ox, Eco-Buddies Mask: The Eco-Buddies Mask is a biodegradable surgical face mask alternative. (Team: Emma Martin, 23Ox; Trinity Peck, 23Ox; Ashwin Giri, 23Ox)
Shakila Ali, 22PH: Shakila started and has successfully run multiple fundraisers to educate and empower at risk communities in Afghanistan.
Tamara Lambert, 24G, SENSEable Dx: SENSEable DX is a long-term, continuous, and real-time biosensor that will provide patients at high risk of developing sepsis and their physicians with an early warning system.
Yifei Gao, 22C, Bizyb: Bizyb is a blazer e-commerce shop that focuses primarily on putting the personality back in women's business formal wear.
Talia Cohen, 24B, OutStride: OutStride is a functional platform which enables outdoor runners, particularly those that travel frequently, to curate a beginning-to-end runs in any given destination.
Gabriela Olmedo, 24B, THRIVE Atlanta: THRIVE Atlanta is a volunteer-based organization providing unhoused individuals in the Atlanta area with access to preventative healthcare through education, recreation, and nutritional programming.
Linh Le, 22T, Hospitalities: Hospitalities is a personal assistant app for immigrants and international students to help them navigate their destination country successfully. (Team: Christina Sheng)
Kanika Sharma, 24G, i-Draw: Kanika's organization is conducting workshops on effective writing skills (with a focus on scientific and journalistic writing) with a group of rural youth in Bihar, India.
Benedict Owanga, 24L, QuickLight: Quick Light is an on-demand service that allows customers to rent out solar generators for a select period of time, all from a simple text. (Team: Ini-Abasi Ekanem, Jewel Thompson-Adiuku)
JT Trujillo, 23B, hand + sum: hand + sum is a friendly, online lending platform connecting lenders with financially vetted and verified borrowers requesting loans between $100-$500.
If you are interested in learning more about The Hatchery Incubator, visit our website.  To stay up to date on all The Hatchery's programs, subscribe to our newsletter.
Share This Story